PROFESSIONAL CLOUD BASED
ANTI-SPAM SOLUTION BY SPAM EXPERTS™
Email spam, viruses and malware is a growing problem despite many attempts to block well know threats. We are excited to have team up with our friends over at 
Spam Experts™
 to offer an antispam solution which has helped many companies like yours 
fight spam before it even reaches your inbox
. Our solution outperforms many of the competition, is easy to use and is enabled for as many users as you want!
WHY INCOMING / OUTGOING SPAM FILTERING
Email is the most important means of communication in today's business world. Spam remains however the most serious threat to productivity and resource efficiency in email communication.
Cyber-criminals are motivated by financial gain, the challenge, ideology or simply mischief. So the anti-spam and virus filter from SpamExperts is a "must have" for any email intensive organization today.
HOW DOES THE INCOMING FILTER WORK?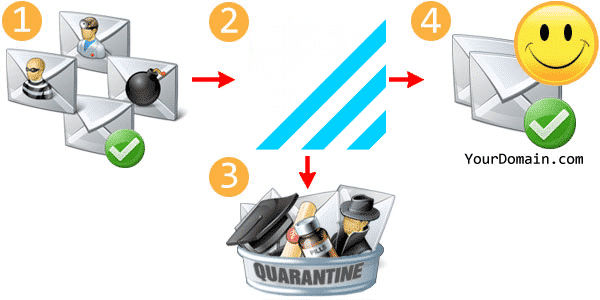 1 – Incoming, unfiltered email is sent to your domain. Along with the good email you want, it includes a barrage of spam, phishing and virus emails that you don't want.
2 – A simple change to your domain's MX record puts Spam Experts™ extremely powerful and remarkably accurate filtering service to work for you.
3 – The bad stuff is put in a "quarantine viewer" so that there's no chance of ever losing good email. In the unlikely event that a good message is blocked by Spam Experts™, it can be viewed in either the included shared quarantine or optional individual quarantine viewers.
4 – GOOD email is delivered to your domain without delay …BUT… the bad email is captured (quarantined) by Spam Experts™!
HOW DOES THE OUTGOING FILTER WORK?
Secure your network from spam, virus, phishing and malware attacks

Detect outbreaks of new spam and malware immediately

Increased email continuity

Improve resource efficiency

Improve employees productivity

Secure your network from spam, virus, phishing and malware attacks

Detect outbreaks of new spam and malware immediately

Increased email continuity

Improve resource efficiency

Improve employees productivity

Secure your network from spam, virus, phishing and malware attacks

Detect outbreaks of new spam and malware immediately

Increased email continuity

Improve resource efficiency

Improve employees productivity